Moving on from his wonderful books on DIY chemistry experiments (
Theo Gray's Mad Science: Experiments You Can Do At Home - But Probably Shouldn't
) and his glossy, beautiful and somewhat erotic (well us chemists get our kicks where we can)
The Elements: A Visual Exploration of Every Known Atom in the Universe
, Theo takes us a step up in complexity and deals with the realm of molecules in his latest glossy coffee table book to end all coffee table books.
Sure there is less structural narrative here than in 'The Elements' because we lack the periodic table, but the themes selected by Theo are great and do tie together somewhat. What you find are sections on soaps, sweeteners, dyes, aromatic compounds and a variety of others. Each section is contains the beautiful photography of Nick Mann as well as lots of structures and weird facts.
Another aspect that I love about Theo's books are that I am not bored reading them and despite my wide reading and years of education and educating in chemistry there are still a variety of weird facts that I come across in his books. Admittedly I was a little bored in the first couple of chapters of 'Molecules' because it did lay down the foundations of what molecules are and how the atoms bond. But it is always great to read how another greatly intelligent person explains these basics to a non-educated audience. It is part of my job to do this for fresh faced university undergraduates.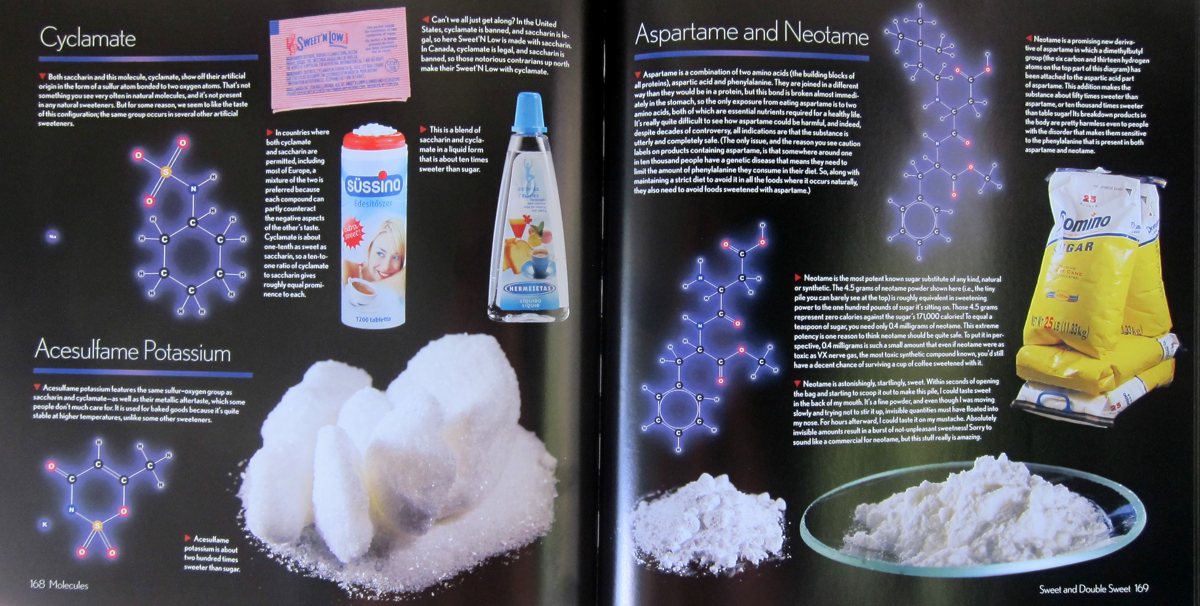 Yes I am possibly a bit biased being both a chemist and a big fan of Theodore's previous books but 'Molecules' kept me fascinated for hours and it is a book that I will revisit quite often. It may not be quite as catchy and as structured as 'The Elements', but close to perfection is still a commendable achievement.